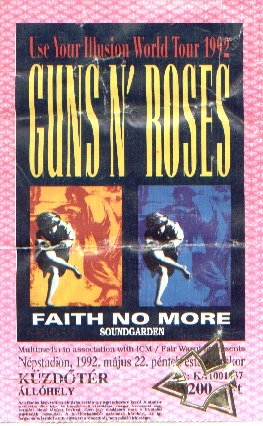 Akkor már hosszú hónapokat vártunk a napra. Anyám többször megbánta hogy engedte erre költeni a zsebpénzem és én is többször megbántam, hogy beleegyeztem, hogy elviszem a húgomat is. 
Az eltelt húsz év igazolta, hogy az az este minden pénzt és kellemetlenséget megért. Azon az estén voltam előszőr olyan koncerten, ahol a főzenekar (és az akkor még számomra ismeretlen előzenekarok) pályája csúcsán járt és Kelet-Európa ezen szegletét választotta koncerthelyszínül.  
Nem döntött rosszul Axl. A Guns koncert idecsábította a környező országok fiatalságát is. Élénken él bennem a kép egy szlovák (akkoriban még csehszlovák) srácról, aki egy ajándékba kapott újságból fáklyát gyújtott és - mint, Indiana Jones a kígyókat - azzal tartotta távol a körülötte állókat, hogy neki jusson elég hely.
Pedig a helynek híjján voltunk. Azóta megjártam egy-két koncertet, de olyan kis helyen még egyet sem kellett végignéznem, mint akkor. Kissrácként előszőr döbbentem rá, hogy milyen az, amikor a tömeg ellen tehetetlen vagy, amikor az embertömeg mozgása sodor magával és azon imádkozol, hogy csak el ne essél.
A kapunyitáskor már rohantunk is be a küzdőtér elejére, de akkor még nagyon sokat kellett várni a gunnerekre. Előszőr is végig kellett szenvedni a Soundgardent. Nos azóta már jócskán bánom, hogy így álltam hozzá, de akkoriban nem nagyon érdekelt sem a Seattle-i banda, sem a FNM. Szégyen belátom... Mentségemre legyen mondva, évekkel később nagy kedvencem lett a Faith No More és több koncerten is pótoltam a korábbi mulasztást.
A sötét csak este 9 óra tájban telepedett a Népstadionra. Akkoriban még minden lelátó nyitva állt, így 70-80 000 embert csapott mellbe a Nightrain. A mai napig a kedvencem és mivel akkor már több hónapja próbáltuk megtippelni hogy mivel indul a buli, rögtön vesztettem is egy fogadást. Én a Right Next Door To Hell-re gondoltam. 
Loaded like a freight train
Flyin' like an aeroplane
Feelin' like a space brain
One more time tonight,
A folytatásban a Mr. Brownstone következett, de ekkorra kiderült a közönség jelentős hányadáról, hogy igazából a Use Your Illusion balladáiért jöttek. Határozottan emlékszem a következő havi Metal Hammerben írta Cselő:
"Körülnéztem, hogy miféle rockereket fújt ide a szél? Frissen szaggatott farmerek, lábtörően új veszkók..."
A Live and Let Die és a Double Talkin' Jive is lement, amikor esőre fordult az idő. A következő műsorszám egy nagy kedvencem volt a Civil War. 
My hands are tied
The billions shift from side to side
And the wars go on with brainwashed pride
For the love of god and our human rights
And all these things are swept aside
By bloody hands time can't deny
And are washed away by your genocide
And history hides the lies of our civil wars
Letudtuk a kötelező Don't Cry-t - így a legtöbben már nem jöttek hiába és már csak egy dalra kellett várniuk - majd a - szerintem - sehova sem illő Bad Obsession-t.
Utána Slash lépett elő és elkezdte a Welcome to the Jungle-t. Az őrület elkezdődött, a keleti blokk nekivetkőzött és sodort magával a tömeg. Úgy tűnt a banda is aggódott a testi épségünkért, mert a Patience-el folytatták, amit komoly ember nem tud mással indokolni. 
Jött a November Rain ami minden létező slágerlistát vezetett akkoriban és erről még felvétel is maradt a számunkra. (A videók minőségéért elnézést kérek, de abban az időben nem hordtak a nézők mobilt meg kézikamerát)
Ismét felpörgették a bulit a srácok, jött a You Could Be Mine. Igen a Terminátoros sláger. Szerintem ekkorra már a nagymamák is ismerték. 
Ekkor Axl elkövette élete legnagyobb hibáját. A nemrégiben elhunyt Freddie Mercury előtt úgy kívánt tisztelegni, hogy ő is elénekli a Tavaszi Szél Vizet Áraszt kezdetű népdalt, de.... Nos döntse el mindenki maga... 
A ráadás perceiben a Sweet Child o' Mine, a Knockin' on Heavens Door és az elmaradhatatlan Paradise City töltötte fel a közönség azon részét, akik valóban a GNR-re voltak kíváncsiak. 
A banda ekkoriban már az utolsó olyan felállását töltötte akik még klasszikusnak számítanak, így talán nem gond, ha felsorolom őket, mert így még egy ütős felállásnak lehettünk szem és fültanúi:
Axl Rose (ének), Slash (gitár), Gilby Clarke (gitár), Duff McKagan (basszus), Matt Sorum (dob), Dizzy Reed (billentyű).
A végére engedjetek meg egy kis történetet még arról, hogy mennyire nagy esemény lehetett ez akkortájt Magyarországon. 
Egy kedves barátom a koncert után elment egy hangszerboltba és vett egy tucat dobverőt. Hazavitte és ráírta mindegyikre hogy Matt Sorum. Elég komoly bevételre tett szert az ezekért kapott pénzen :) Nevet szándékosan nem említek, mert a mai napig kedves olvasónk ;)