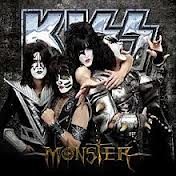 Mai nappal hivatalosan is megjelent a Kiss huszadik stúdiólemeze, a Monster. Előzetesen azt gondoltam, azon túl, hogy a hozzám hasonló rajongók így is-úgy is megveszik majd a cédét, vajon mi értelme van újra kiadni ugyanazt, amit ezelőtt már többször is megtettek. A múlt héten kiszivárgott dalok csak tovább erősítettek ebben, de aztán az album hallatán mindez elszállt, ugyanis a Monster ott folytatja, ahol a Sonic boom abbahagyta, csak még rátesz egy lapáttal.
Pedig már a legelső kislemez, a nyáron megjelent Hell or hallelujah is ígéretes volt, még az igen erős Under the gun utánérzés ellenére is, és ez is lett az album nyitónótája. Tuti koncertfavorit lesz, az biztos!
Az egész albumot egyfajta felfrissített hetvenes évek-feeling járja át, a dalok egytől-egyig a klasszikus korszak jegyében hangszereltek, de egyáltalán nem porosak, hanem szinte lélegzik az egész. Erős és dinamikus a hangzás is, nagyszerűen visszaadja a Kiss élő megszólalását. Lejön, hogy minden görcs nélkül születtek a nóták és ha pár évtizeddel korábban íródtak volna, feltehetően mára klasszikussá váltak volna az olyan darabok, mint az Eat you heart out...
... esetleg a Shout mercy vagy a The devil is me. Természetesen nem csak Gene és Paul énekel, hanem Eric és Thommy is megkaparintja a mikrofont egy-egy dal erejéig. Míg utóbbi dala egy kicsit semmilyen lett, addig Eric az All for the love of Rock and rollban egy akkora időutazásban részesíti a Kiss-rajongót, hogy még én is elpirultam a Rock and roll over utánérzéstől.
Egy szó, mint száz, aki eddig nem szerette a Kiss-t, az nem most fogja megkedvelni a bandát. Mindenki más, egy nagy megfejtéseket ugyan mellőző, de ettől függetlenül korrekt és szerethető lemezt kap, mely - már amennyire lehet Simmonsékra ilyet mondani - kellően hiteles és nem tiporja sárba közel négy évtized munkásságát.
A magam részéről egy erős nyolcas, egy ilyen egy napos, kellően tömény ismerkedés után.